Protecting your pet and yourself during COVID-19 pandemic
As the COVID-19 pandemic continues into April, the SPCA has compiled information that is based on current advice and evidence. We will update this page as more information becomes available.
There is still no evidence showing that pet animals are capable of spreading the virus to other humans or animals. So far, there are three cases in Hong Kong (two dogs and one cat), pointing to the fact that pet owners who are confirmed to be infected with COVID-19 can transmit the virus to their pets. However, these three animals are all asymptomatic meaning that they haven't become sick with COVID-19, there is also no evidence that these animals are contagious i.e. can transmit the virus to humans or other animals.
Even with reports of isolated cases around the world, our concern should not be with pets getting COVID-19 but with preventing human-to-human transmission. We strongly urge all responsible pet owners to listen to credible sources of information. The advice from experts around the world is that humans should exercise stringent personal hygiene and practice social distancing in order to avoid contracting and spreading the virus. Wash your hands frequently, do not cough or sneeze in the vicinity of your pet, always use a tissue or armpit to cover your nose and mouth when you cough or sneeze, and finally if you do develop symptoms of the virus please self-isolate from humans and animals, and consult a medical professional.
Pets provide people with invaluable companionship especially during this difficult time. They love us unconditionally no matter what is happening in the world outside. Whether you are working from home or self-isolating, there are always ways for you to keep yourself and your pets happy and healthy (see our tips section later). Should you have further queries, please email at info@spca.org.hk.
---
Can you help?
Shelters in the US have reported that support for adoption or fostering has been overwhelming and some have even temporarily emptied their shelters. Animal rescue organisations in Hong Kong have animals that are in need of help even during such difficult times. With many people spending more time at home now might be a good time to consider how you could help by adopting an animal or even through fostering. It is not just puppies and kittens that need fostering (or adopting for that matter) but some animals have been living in shelters for months or years and would really benefit from a respite break.

You never know with fostering you may fall in love and find a new family member!
---
The SPCA's special operation arrangement during COVID-19 pandemic
Until further notice, the SPCA has implemented the following procedures to help reduce the spread of COVID-19:
All persons (staff, visitors and customers) are required to wear a mask, undergo a body temperature check and clean their hands with sanitizers before entering our premises.
Adoption – at the current time we cannot accept walk-in visitors. All interested parties are required to pre-book via phone:

Hong Kong centre - 2232 5529
Kowloon centre - 2713 9104
Sai Kung SPCA centre - 2232 5599

Retail stores and veterinary clinics services remain normal. However, the operating hours for some of our centres may be adjusted. For details, please click here.
---
Love in the time of COVID-19
The SPCA is striving to maintain its emergency animal rescue and 24-hour veterinary services during these difficult times. There are ways for you to support us and the animals in need. Please click here for information and action!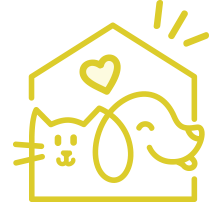 5 tips to prepare for your pets should you become sick with COVID-19 virus
1
Ensure someone who knows your pet well can step in to take care in times of emergency; provide them with a contact list including your vet and pet insurance provider.
2
Keep your pet up-to-date with vaccinations, deworming and flea and tick treatments; prepare at least a two-week supply of food, a portable pet cage or bag, your pet's favourite toy or blanket and have them ready and available for easy pick up; just in case they need emergency boarding in a temporary location.
3
If your pet is on long-term medication, prepare at least a 30-day supply and provide clear dosage and administration instructions.
4
Ensure your dog license (and microchip) is up-to-date. If your pet is not microchipped, prepare a collar and identification tag with contact details for them.
5
If you are returning from overseas and need to home quarantine you may want to consider if you should make pre-arrangements for your pet during this time. This could include extending your pets boarding period or making arrangements such as asking your friends to help out.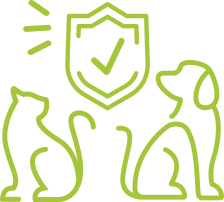 4 ways to protect yourself and your pet during COVID-19
1
Owners are reminded to wash their hands thoroughly with soap and sanitizers before and after interacting with their pets.
2
Don't kiss your pet! Do not cough or sneeze on your pet, and stay away from animals if you start developing symptoms of the virus.
3
Adhere to credible sources of information only. Seek advice from your veterinary surgeon should you have any concerns regarding your pet's condition.
4
Enjoy the love and companionship from your pet. Stay happy and keep smiling!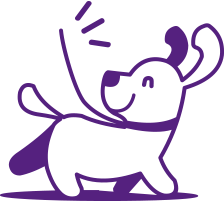 2 tips to help you care for your dog during COVID-19
1
When walking your dog practice social distancing with other dog owners.
2
If your pets paws get dirty or you are especially concerned you can gently clean your dogs' paws after a walk with vet-approved shampoo or cleansing wipes.
---
Dr Denise of the SPCA attended a TV interview to talk about COVID-19 and pets.